Chikuwa(tube-shaped fish paste cake) Making Experience at Kasumi Coast.
The area around Kasumi Beach, located in the center of San'in Kaigan Geo Park, boasts major fishing and seafood processing industries. Once you are here, you should try unique original experiences like making a grilled chikuwa. After your chikuwa experience, how about going to the beach for a swim, then take a short trip to see the sunset?
Let's make grilled Chikuwa!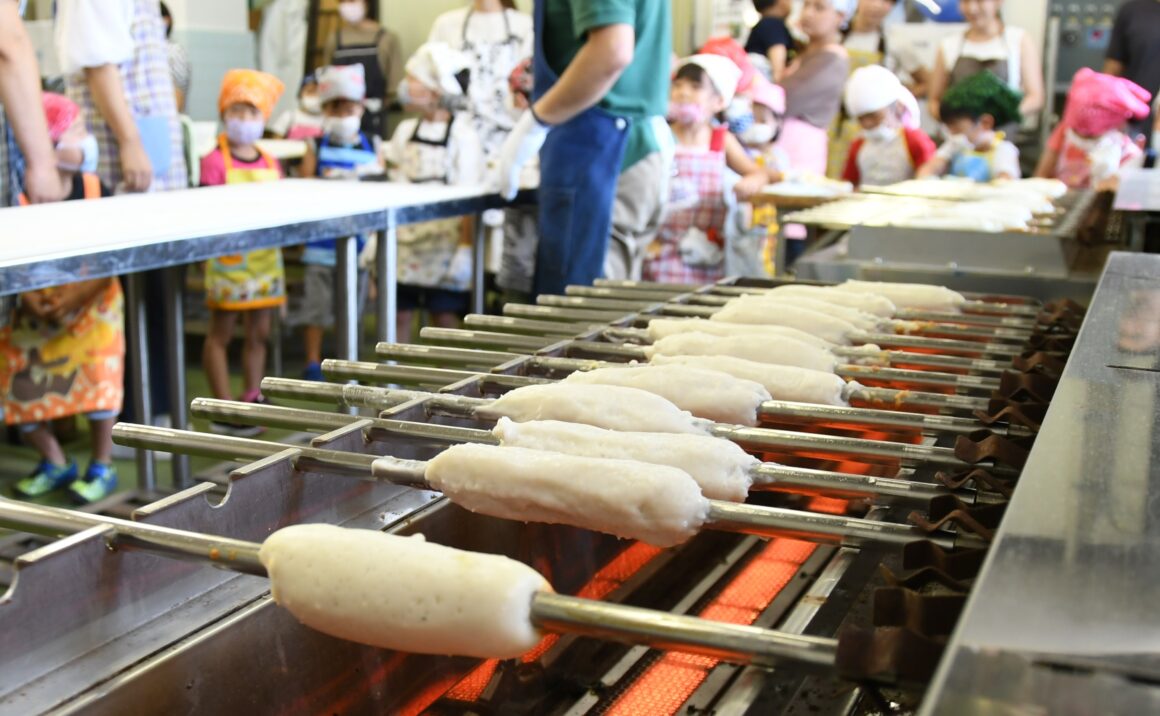 You can experience making a grilled chikuwa at Kami-cho Geopark & Cultural Museum of the Sea.
Chikuwa is fish paste cake in the shape of a tube. Wrap it around a skewer and grill slowly.
Wait for 10-15min. Deliciously grilled chikuwa is a gift from the sea. It's nice and chewy and makes you smile.
Varied beautiful coastal landscape, play at rocky shore.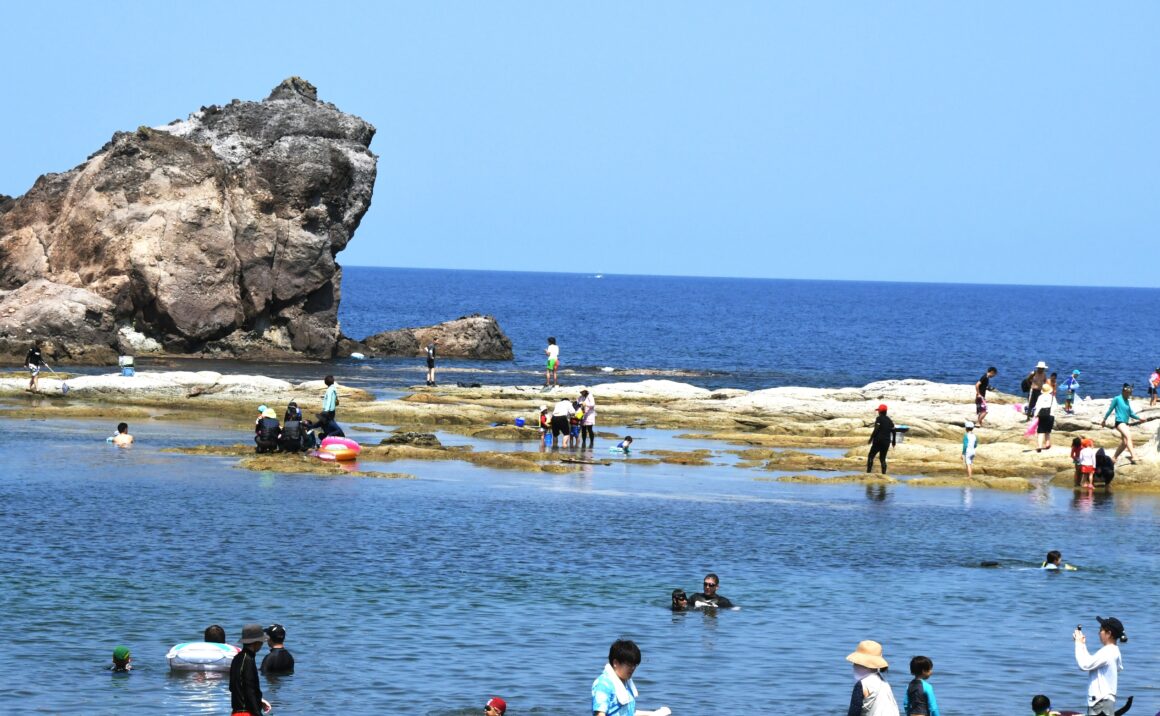 There are 6 unique beaches at Kasumi Kaigan.
Imagoura beach, located near Kami-cho Geopark & Cultural Museum of the Sea, is good for making toddler's beach debut because the ocean is calm and kids can play at rocky shore – a perfect spot for the whole family.
Another part of the Geosite, there is a strangely shaped rock called "Kaeru Iwa (frog rock)", which is known as a spiritual site. Camping ground is nearby.
The Sea of Japan glows red in the sunset, one of "Japan's 100 Most Beautiful Sunsets"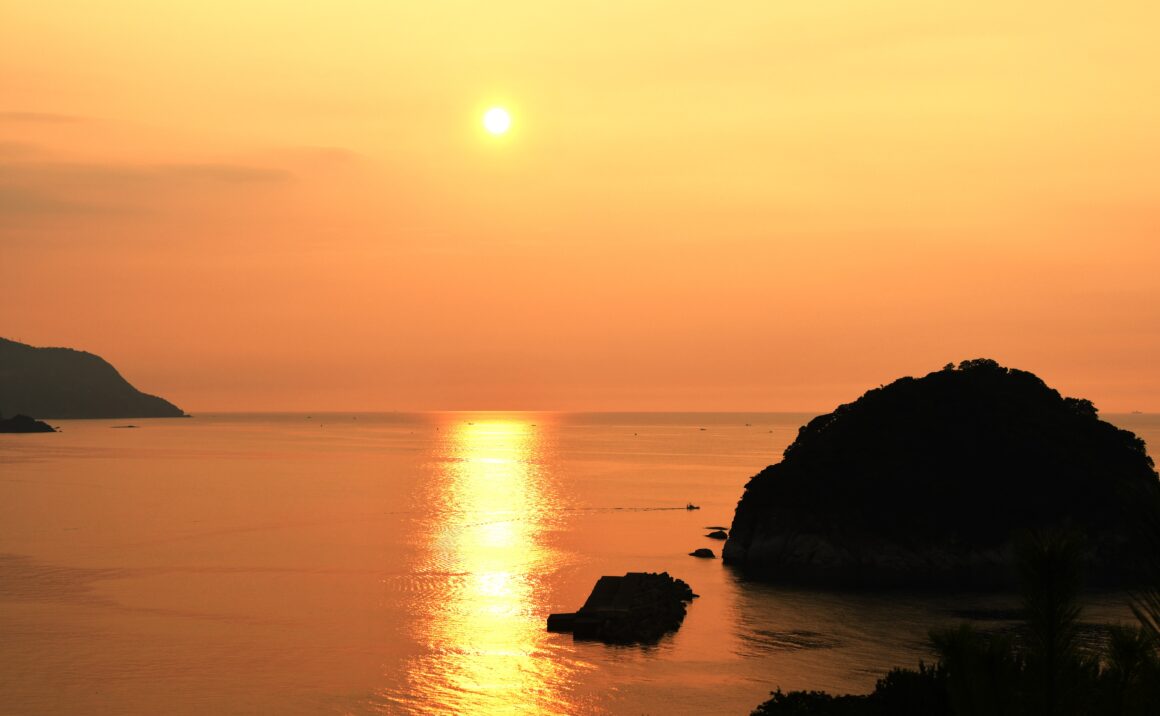 Imagoura and Okami Park have been selected as one of Japan's 100 Most Beautiful Sunsets.
When dusk is approaching, the ocean turns to red. It is said that it just looks like a painting as the sun sinks below the horizon.
The view of fishing boats coming and going across the ocean is tasteful, too.
It is a magical and gorgeous moment.
Information
Name:
Kamicho Geopark & Cultural Museum of the Sea
Contact:
Kamicho Kasumi Tourist Association
TEL:0796-36-1234
Business hours:
9:00~17:00 (Closed during the New Year holidays)
Official website:
http://kasumi-kanko.com/
ACCESS
1113 Sakai, Kasumi-ku, Kami-cho, Mikata-gun, Hyogo
| | |
| --- | --- |
| ACCESS: | [JR Train] From Tottori Station, get off at Kasumi Station and 5min from Kasumi Station by taxi. |
If you like this - Please "Like" our page